As the mobile world continues to grow, the need for businesses to create and develop mobile apps and avoid falling behind the competition is insurmountable. Mobile apps can be effective tools to keep your business ahead of the curve. Here are the top 5 reasons your businesses should go mobile.
1.) Mobile is Global
With the world beginning to turn away from desktops and relying more on smartphones and tablets, it is becoming more important for companies to have their own mobile app. By going mobile your business is able to reach customers around the globe – customers you never even dreamed of reaching.
What's that you say? You have a website on the world wide web? Well, unfortunately, reaching a global audience is something websites no longer do effectively.
On July 24th, 2014, Google released an update to its search algorithm. Code named 'Pigeon,' the update dramatically increased rankings for local search results. That's great news for small local businesses, but if your business wants to reach a global market, your website won't rank well outside of your own geographic location. Apps in the Google Play and iTunes App Store on the other hand, are effective global marketplaces in which apps benefit from search results based on star ratings and downloads, not geolocation.
2.) Customer Convenience = Cost Savings For Your Business
While convenience is a competitive differentiator in and of itself, the convenience that comes from having your own mobile app has the added benefit of saving you money on overhead. When your app has features such as a customer support knowledge base, live chat, and/or payment gateways, there's no need to hire a large staff or outsource to a call center. A small team (and in some cases, even a single individual) can easily handle customer inquiries. Mobile apps can also save you money on merchant fees! Between the setup costs, monthly access fees, account fees, transaction fees and equipment leases, you're probably left wondering whether you or your credit card processor is making more money on each of your sales. Contrast that with simple payment gateways like Stripe or Square that can be integrated into your businesses app with no setup fees, access fees or monthly minimums – just a simple 2.9% per transaction.
3.) Mobile Apps Beat Desktops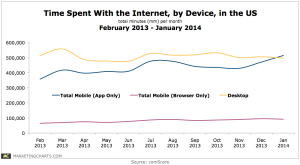 A recent study from Marketing Charts indicates mobile app usage has surpassed desktop usage by 9.3% and is continuing to grow. Normal everyday things like sprinklers, doorbells, and alarm systems are joining the 'internet of things' (IoT). Because systems like Nest, and the August smart lock are operated by mobile apps, the fast growth of the internet of things can only fuel consumer app usage even more. If your businesses isn't capitalizing on the growth of mobile apps, your competition soon will.
4.) Real-time data
With accurate and real-time data flowing through your app, marketing activities become agile and optimized. Why waste time and money on a focus group that gives feedback on things they think they like when you can pull data from your app on things your customers actually like? Marketing activities such as defining market segments, building customer personas and tailoring your product/service offerings are so much easier when you have the right data. And short of hiring an expensive marketing research company, building your own mobile app is the only way to get it.
5.) Mobile Marketing & Advertising
Mobile apps are key to advanced advertising activities like sending customers push notifications and promotions when they happen to be by your business. Need to smooth out demand between your lunch and dinner rush? Send a happy hour promo to customers nearby with a push notification. Need to get rid of excess inventory? Email a coupon to all your customers that purchased a similar or related product.
Mobile marketing and advertising can go far beyond that though, because it's not just about collecting and using data. It's about building a relationship with each of your customers. By building an interactive app where your customers can comment, like and review products, you create an outlet similar to social media that fosters communication and builds stronger customer relationships. Unlike social media, however, you have complete control of the communication channel. Bonus!